Have you made your New Year's resolution yet? While any goal can be a resolution, millions of Americans make the choice every January to eat healthier, exercise more, and/or lose weight.
In fact, one survey found that among the most popular New Year's resolutions are:
Exercise more (44%)
Eat healthier (42%)
Lose weight (31%)
However, people often struggle to commit to their New Year's resolution in the long-term. One study found that only 19% of participants managed to follow through on their resolution for 2 years.
It can be difficult to stick to a resolution for many reasons. Whether due to over-commitment, lack of time, or other factors, most people struggle to keep their resolution for a month. Let alone 2 years!
New Year, New You Month
Prescribe FIT established New Year, New You Month in January to bring awareness to the importance of maintaining your health and wellness goals long-term. While New Year's resolutions can be tough to maintain, you don't have to do it alone.
Take the first step towards a New You this January by talking to your orthopedic physician about Prescribe FIT: a virtual lifestyle health program designed to help orthopedic patients improve their musculoskeletal (MSK) health at-home.
Orthopedic physicians around the country have partnered with Prescribe FIT to make it easier for their patients to stick to their New Year's resolution and transform their lifestyles in the process.
Rather than over-committing to a complicated diet or exercise routine, Prescribe FIT helps orthopedic patients achieve their wellness goals with incremental changes to their lifestyle.
In addition, patients also gain access to:
One-on-one health coaching & support.
Personalized nutrition and fitness advice.
Weight, nutrition, pain, and activity tracking via our mobile app.
All these features are designed to support the long-term health and wellness of our patients by focusing on the root causes of their MSK and arthritic conditions.
Prescribe FIT: Realistic Results
Hear from our patients on how Prescribe FIT has helped them achieve their wellness goals:
"I have more energy, and my leg pain is not as bad. My knees are great, and that recliner is less appealing. I am in this for the long haul, however long it takes because the BIG winner is ME."
"Before starting the Prescribe FIT program, I was so depressed and miserable and in such pain. With losing the weight I am so motivated by my success I can't wait to get on the scale every morning!"
Unlike most people who make a New Year's resolution, 80% of patients in our program stay engaged for 9 months or longer. They also lose an average of 5.4% of their weight in the first 16 weeks. 82% of patients reduced their severe pain just 30 days.
Most importantly, Prescribe FIT is eligible for insurance coverage through Medicare, Medicaid, and most commercial insurance carriers. Our team will check your benefits eligibility and financial responsibility for the program prior to your enrollment.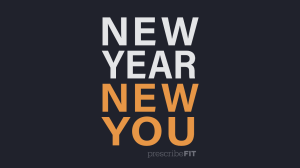 Ready to make a New Year's resolution that will last a lifetime? Talk to your orthopedic physician about Prescribe FIT to access your prescription and get a head start today!