In honor of the Academy Awards season, the Prescribe FIT team compiled a list of the top 5 movies for orthopedic surgeons. While it may be tough as an orthopedic surgeon to find the time to watch a movie, these 5 films all feature elements including injury, bones, skeletons, and more that no orthopod should miss.
From Batman's infamous and impromptu vertebrae surgery in The Dark Knight Rises to the magical, mischievous skeletons in Disney's Coco, below are the top 5 films that feature plenty of industry-relevant action for orthopedic surgeons to enjoy.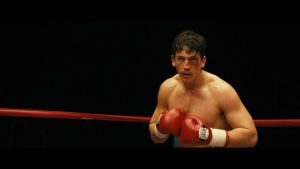 Photo via IMDb
1. Bleed for This (2016)
This film is based on the true story of Vinny Pazienza, AKA "The Pazmanian Devil" who becomes an overnight sensation after winning two world boxing championships. Suddenly left with a broken neck after a near-fatal car crash, Pazienza is told that he may never walk again.
Sports medicine specialists or anyone who works closely with MSK injuries can appreciate this epic tale of defying the odds of a life-changing event to make one of the most unlikely comebacks in the history of athletics.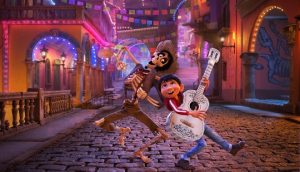 Photo vis IMDb
2. Coco (2017)
This family-friendly film features young Miguel, an aspiring musician, who finds himself trapped in the Land of the Dead and slowly turning into a skeleton just like his ancestors. Together with the skeleton trickster Héctor, Miguel embarks on an adventure to find his way home and uncover his family history along the way.
A vibrant, hilarious, and charming adventure, Coco is replete with joy and plenty of skeleton humor that is certain to tickle your funny bone.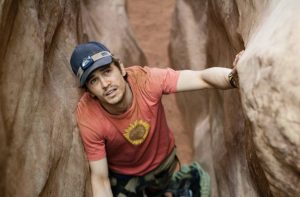 Photo via IMDb
3. 127 Hours (2010)
This Oscar-nominated biographical film is based on the true story of a man, Aron Ralston, whose arm becomes trapped under a boulder while exploring a remote canyon in Utah. After five days pinned under the rock, Aron makes the agonizing decision to amputate his own arm to free himself.
While the particular scene in which Aron self-amputates his arm with a dull pocketknife may be gory and hard to stomach for most people, orthopods are no strangers to the level of intensity and bloodshed depicted in 127 Hours.
Photo via The Dark Knight Rises
4. The Dark Knight Rises (2012)
The Dark Knight Rises is a superhero classic and the highest-grossing Batman film to date. After 8 years in hiding, Batman reluctantly returns from his exile to face off with the supervillain Bane.
Orthopods may remember the infamous scene in the film where Batman, imprisoned after having his vertebrae crushed by Bane, is healed by a fellow prisoner's well-placed punch to the spine. While not the most medically accurate procedure, the punch enabled Batman to defeat Bane in their climactic rematch.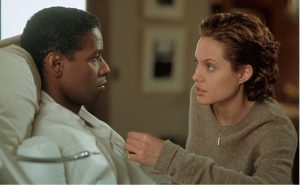 Photo via IMDb
5. The Bone Collector (1999)
Detective Amelia Donaghy, portrayed by Angelina Jolie, is launched into the hunt for a serial killer with an unusual signature: Extracting a small shard of bone from his victims. When the trail runs cold, Amelia recruits Lincoln Rhyme, played by Denzel Washington, to uncover the identity of The Bone Collector.
This film features thrilling pursuits, intriguing mystery, and suspenseful action all with the undercurrent theme of bones, and even a few bone extractions.
If there were 5 movies that an orthopedic surgeon should absolutely make time for, Prescribe FIT recommends all the ones listed above. Below are a few more movies for orthopedic surgeons that were honorable mentions.
Trainwreck (2015)
Doc Hollywood (1991)
The Fugitive (1993)
The Skeleton Key (2005)
Rookie of the Year (1993)